Living in Beautiful Campbell County
What do scenic mountain views, picturesque lakes, ample outdoor activities, easily accessible and convenient location, and no state income tax have in common?
If you guessed they can all be found in Campbell County — congratulations, you got it right!
Campbell County can make anyone feel at home. From our welcoming locals to our bustling business community, our small town charm with large town amenties is unbeatable.
Our proximity to 1-75 offers quick accessibility to surrounding areas such as Knoxville, Pigeon Forge / Gatlinburg, Western North Carolina, and Eastern Kentucky.
Our community is a prime location for raising children, as our school system strives for an educational environment that offers modern classroom settings which enhances the learning experience.
Campbell County is proud to have a strong, healthy workforce that offers job seekers across a variety of fields opportunities for work.
But our area's most favorited features are the great outdoors and Norris Lake. When you live in Campbell County, you have the Great Smoky Mountains at your fingertips. Residents of our county enjoy taking advantage of all that nature has to offer, including ATV trails, area hiking, camping, fishing, hunting, and, of course, relaxation time on the lake.
No matter what you enjoy, Campbell County has something for you. We hope you'll stick around for a while to see for yourself that we've got it all!
Announcements & Public Notices
Governmental meetings, county-wide events, office closures, and more — stay in the know of what's happening in your county.
Looking for something in particular?
Here's easy access to some of the most commonly visited areas of our website.
Our school system's mission "Excellence for Every Student, Every Day!" They strive each day to empower students to acheive their full potential. From elemenary school to middle school and into high school, our students are given the tools to help them succeed.
Cities, Towns, & Communities
Alder Springs
Anthras
Block
Cherry Bottom
Clinchmore
Coolidge
Cotula
Demory
Duff
Eagan
Elk Valley
Grantsboro
Habersham
Morley
Murrayville
Newcomb
Oak Grove
Pinecrest
Pioneer
Royal Blue
Speedwell
Stinking Creek
Vasper
Victory
Westbourne
White Oak
Wooldridge
Wynn
Sanitation & Trash Pick Up
Campbell County Sanitation Department offers its citizens several drop-off convenience centers for waste and recyclables throughout our area. For more information on where those center are visit the Sanitation Department page.
If you live within city limits, please contact your city of residence for information regarding trash pick up services.
Access to great health is provided to Campbell County by community health clinics, hospitals, and physicians.
In case of an emergency, always call 911 first.
Campbell County Health Department
162 Sharp-Perkins Rd.
Jacksboro, TN37757
423-562-8351
Community Health of East Tennessee
130 Independence Lane
LaFollette, TN 37766
423-562-1156
LaFollette Medical Center
923 E Central Ave
LaFollette, TN 37766
423-907-1200
In order to provide safe, suitable, and appropriate venues for the use of all-terrain vehicles (ATVs) for enjoyment, our county and cities have designated approved ATV roads and routes. Use the information below to locate these areas.
I'd like to stay "in the know" of what's happening within our county. What's the best way to do that?
You mentioned hiking in the area. Where could I do that?
I'd like to retire near the lake with my boat. Do you all have marinas that could house my boat?
Our community is home to 12 marinas! Plus, anywhere you decided to live in our county, you're just a short drive from Norris Lake, meaning any day could be a day on the lake.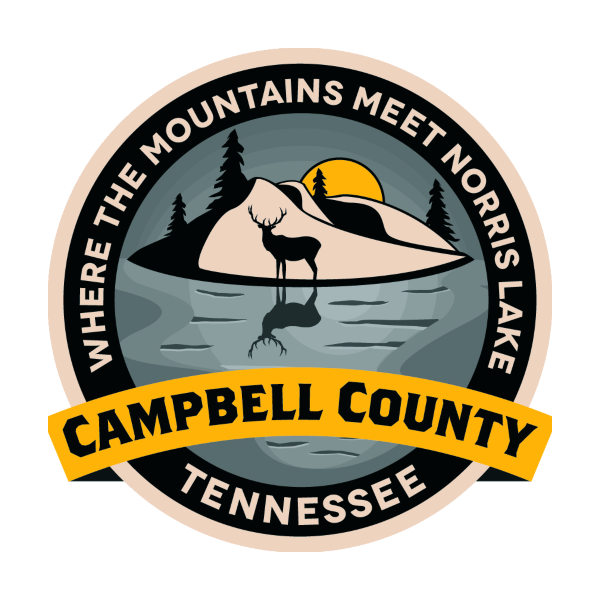 County Mayor
Jack Lynch
Mayor Lynch took office as Campbell County mayor in September of 2022.