Emergency Management Agency
Office of Emergency Management and Homeland Security
Campbell County Emergency Management Agency (EMA) was established by Campbell County Broad of Commissioner resolution on August 17, 1981, is charged by Tennessee Emergency Management Agency under Tennessee Code Annotated (TCA) Title 58-2-101
Our Mission
It is the mission of Campbell County Emergency Management Agency to assist the community in efforts to mitigate, prepare for, respond to, and recover from emergencies and disasters affecting the citizens of Campbell County.
Our Vision
Campbell County Emergency Management Agency will accomplish its mission through planning, training and exercising of countywide response agencies, public education, information sharing, effective resource management, and exploration of alternative funding sources for mitigation of identified shortfalls.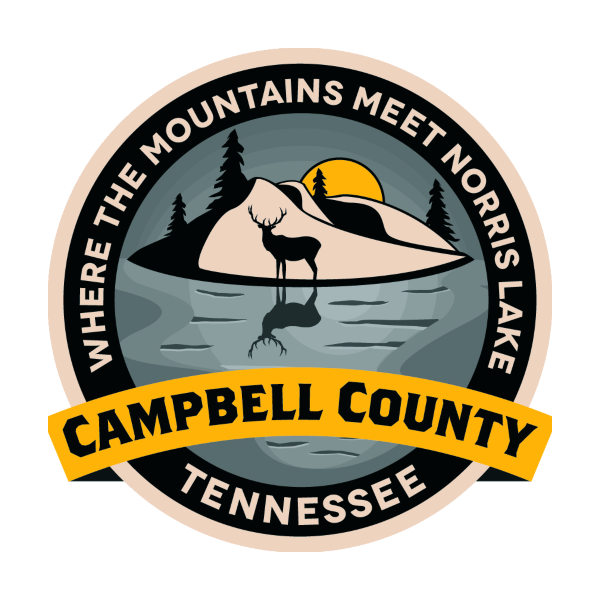 136 N. Massachusetts Avenue, Suite 1
LaFollette, TN 37766
Do you have a plan for when disaster strikes? While you may never be completely ready for any disaster, there are several steps you can take to help prepare should the occasion arise. There are a variety of resources available to you to help you plan for disastrous events such as wildfires, home fires, flooding, weather related events, and more. Use the links below to access these resources.
Information on a mobile app dedicated to providing emergency preparedness, response, and recovery information to Tennesseans.
When starting to plan for emergencies, begin by taking into consideration what types of disasters may affect your area. Tennessee has 13 specific hazards that TEMA has identified in their statewide emergency planning process.
Once you have familiarized yourself with the types of disasters, here are 4 steps to creating an emergency plan.
Step 1: Put together an emergency plan.
Ask yourself and your family, friends, or household these questions:
How will I receive emergency alerts and warnings?
What is my shelter plan?
What is my evacuation route?
What is my family/household communication plan?
Step 2: Consider your household's specific needs.
Have conversations about needs and responsibilities within your network. Consider things like how you can assist each other with communication, care of children, pets, or other things, or more specific needs like the operation of medical equipment. Here are some factors to keep in mind:
Different ages of household members
Responsibilities for assisting others
Locations frequented
Dietary needs
Medical needs
Disabilities
Languages spoken
Cultural or religious considerations
Pets and service animals
Step 3: Put your emergency plan on paper.
Use the link below to download and fill out a family emergency plan or as a guide to create your own.
Step 4: Practice your plan.
We've all heard the saying that practice makes perfect, and that applies here. By practicing your emergency plan, you and your household will be familiar with what to do when an emergency situation arises, which can help promote calmness when the time comes.
Part of being prepared for an emergency is being prepared to potentially need to survive on your own for several days. That means having your own food, water, and other supplies ready and on hand to last you several days. A disaster supplies kit is a collection of basic household items you may need in an event of an emergency.
Items for a Basic Disaster Supplies Kit
Stock your emergency kit in airtight plastic bags if possible and put the entire kit in one or two easy-to-carry items such as a plastic bin or duffel bag, then store in an easily accessible location.
Here's a list of a few items your emergency kit could contain, depending on your unique situation you may have other items you need to include such as supplies for pets, elderly adults, and more.
Water, one gallon per person per day for several days, for drinking and sanitation
Food, at least a three-day supply of non-perishable food
Battery-powered or hand crank radio
Flashlight
First aid kit
Extra batteries
Whistle, for signaling for help
Dust mask, to help filter contaminated air
Plastic sheeting and duct tape, to shelter in place
Moist towelettes, garbage bags, and plastic ties
Wrench or pliers, to turn off utilities if needed
Manual can opener
Local maps
Cell phone with chargers and back up battery
Additional Items You May Want to Include
Based on your individual needs, you may want to include:
Prescription medications
Non-prescription medications
Eyeglasses or contact lenses
Infant needs, formula, diapers, wipes
Pet food and water
Cash
Important documents such as insurance policies, identification records, etc.
Sleeping bags or blankets for each person
Change of clothing
Fire extinguisher
Matches in waterproof container
Feminine supplies and personal hygiene items
Mess kits and paper/plastic goods
Paper and pencil
Books, games, puzzles, or other activities
Maintaining Your Kit & Storage Suggestions
Remember once creating your kit to keep it maintained by storing in a cool, dry place, checking occasionally to ensure all food is up to date, and re-thinking your needs yearly and updating your kit to reflect them.
Since you're not sure where or when an emergency will occur, it's wise to prepare and keep kits in your home (designated space and ready in case you need to evacuate), workplace (should you need to shelter in place), and car (in case you are stranded).
What types of disasters are we at the greatest risk to in our area?
Access to great health is provided to Campbell County by community health clinics, hospitals, and physicians.
In case of an emergency, always call 911 first.
Campbell County Health Department
162 Sharp-Perkins Rd.
Jacksboro, TN37757
423-562-8351
Community Health of East Tennessee
130 Independence Lane
LaFollette, TN 37766
423-562-1156
LaFollette Medical Center
923 E Central Ave
LaFollette, TN 37766
423-907-1200