Colonel Tommy C. Stiner Airfield
The airport in Campbell County is a general aviation airport used in a variety of ways, including personal travel on smaller aircrafts, business travel, recreational flying, and more.
With our close proximity to I-75 and Norris Lake, you can fly in and easily hit the road or the lake shortly after. Colonel Tommy C. Stiner Airfield boasts a T-Hangar, an Enterprise car rental nearby, and 24-hour self-serve jet fuel and piston fuel.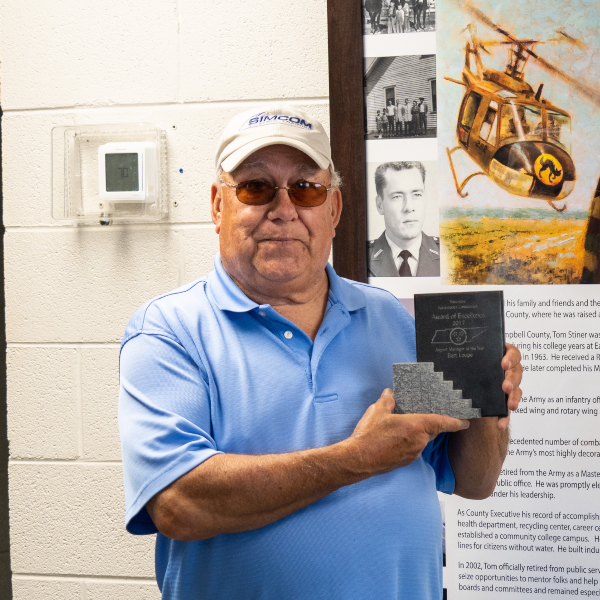 Airport Manager
Bert Loupe
610 Memorial Lane
Jacksboro, TN 37752
In effort to help you arrive safely, we've put together these resources for you: check out the weather, familiarize yourself with the information on airnav.com, and get the view from the top of our airport.
Our airport is proud to have received over 10 "Front Door Awards" and the Governor's Silver Star Airport Award from the Tennessee Division of of Aeronautics and the Tennessee Department of Economic and Community Development. Those awards recognize airports that meet all the requirements for certification, maintain safe operations, keep the grounds in good condition, and serve as quality representatives of their community and Tennessee.
24 Hour Self-Serve Fuel
Jet and piston fuel available to you 24/7
Hangar Space
Limited space within our T-hangar
Nearby Car Rentals
Enterprise Rent-A-Car is right down the road from our airport — if needed & available, they'll "come pick you up"
Charter Flights
Utilizing area charter operators
In 2014, Colonel Tommy C. Stiner Airport became a UT LIFESTAR base, serving Campbell and the surrounding counties. UT LIFESTAR is East Tennessee's choice for air medical critical care transport.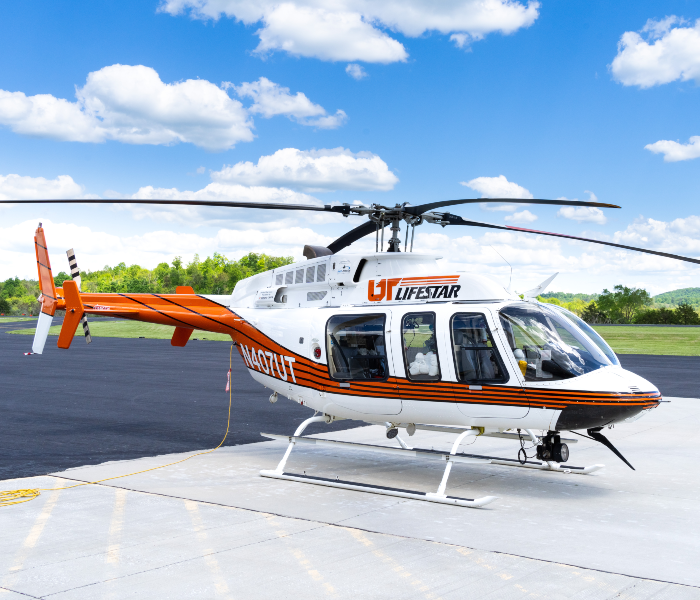 About Colonel Tommy C. Stiner
"(JAU) Colonel Tommy C. Stiner Airfield" is named in honor of the man who proved himself to be a patriot, a soldier, a statesman, and an aviator who never lost his love of flying."
Tom Stiner was raised in Campbell County and, after retiring from the military, called our area home once again.
He graduated from East Tennessee State University with a Bachelor of Science in Business and received a Regular Army Commission as a Distinguished Military Graduate through the ETSU ROTC program. Tom later completed his Master of Science in Public Administration from the University of Tennessee.
After entering the Army as an infantry officer, Tom was soon selected for flight training at Fort Rucker, AL, where he was dual rated in both fixed wing and rotary wing aircrafts. He then served two tours of duty in Vietnam, flying Huey and Cobra gunships.
Tom flew an unprecedented number of combat missions, survived being shot down on 5 separate occasions, and became one of the Army's most highly decorated pilots.
In 1992, he retired from the Army as a Master Aviator at the rank of Colonel and returned home to Campbell County where he ran for public office.
Tom was elected as County Executive for three terms. His record of accomplishment in the role was outstanding, and during his tenure the community flourished. Several major infrastructure developments came to under Tom's leadership.
After retiring from public service in 2002, Tom continued to remain an active part of our community. He rejoined the aviation community and between 2001 and 2017, he flew three different airplanes in and out of Jacksboro. He flew over 4,000 hours covering more than 8,000 miles thoroughly enjoying each and every flight.
It is a privilege to be able to honor a man who was an integral part of our community.